In old Europe there are many stories about people who emigrated to North America and found fame and fortune there. A common feature of all these tales is that the people concerned worked hard or were luminaries in a scientific field. But men like Hans Mross who were able to directly transfer their job and their wide experience in their field of expertise to their new home country are rarely found in this long list of personal success stories.
Today Hans Mross, who turns 70 this year, is North America's largest independent stocking dealer of genuine Mercedes-Benz parts and accessories for Unimog with his company Mross Import Service Ltd., based in Langley, British Columbia.
Just 2 years after the start of Unimog production at Mercedes-Benz, Hans Mross became acquainted with what was then an all-purpose tractor for agricultural use when his father, who had a farm, bought his first Unimog. Son Hans was still a small boy at that time, but at the age of 16 he started training – first as a farmer and then as a motor mechanic.
These 2 professions gave him frequent contact with Unimog and all kinds of commercial vehicles. He completed his training in Germany in 1978 when he passed the master craftsman's examination for motor mechanics.
Hunting Trip to British Columbia
Hans Mross first set foot in Canada at the age of 29 when he took part in a hunt in British Columbia. He enjoyed this stay in Canada so much that he decided to move there.
Mr. Mross emigrated to British Columbia in 1981. He has never regretted this step. The following year, he contacted Stuttgart and asked whether he could take over the service for Unimog in the provinces of British Columbia, Alberta and the Yukon territory.
Mercedes-Benz Unimog has over 1,000 different implements and multiple solutions for almost any industry. Whether it is cleaning streets, cutting grass, installing poles, removing snow, or working on the farm, you can rest assured this work horse will get the job done.
A few years later, the good cooperation was extended and Hans Mross contracted to become general importer for the whole of Canada. In this capacity, he sold new and used Unimog in Canada and the U.S.
Many of the numerous U.S. customers came to him because they had heard about the "all-rounder" from Mercedes-Benz, whose good reputation for use in municipal applications, firefighting and road-rail versions had quickly spread.
The varied areas of application of the diverse and international customers described in the following recognize Hans Mross' decades of work for Unimog and the performance of the Unimog product itself and show that Mr. Mross is now able to reap the personal rewards.
One example is the Unimog from the series of transport vehicles (series 437). Two of them are used for environmental protection, forest fire and pest control as well as for snow clearance by Pacific British Columbia Erosion Control.
Recently, 2 road-rail Unimog U 423s recently delivered to the Massachusetts Bay Transport Authority (MBTA) in Boston, Massachusetts, once again impressively demonstrated Mr. Mross's commitment to the Mercedes-Benz Unimog. He sold the Zagro rail gear, Dücker sweepers with front brooms, spray beams, dirt collection containers, and Kahlbacher snowblowers for the Unimog and gave the MBTA employees a week's training on vehicle and equipment in Boston.
Earlier, the Massachusetts Bay Transport Authority (MBTA) put 2 Unimog (series 405) into operation with a Zagro rail gear system for use as service and rescue vehicles.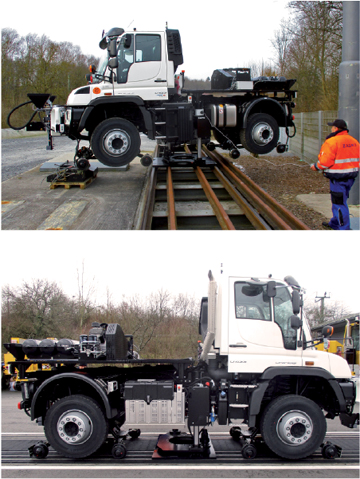 The Unimog U 4000 with a double cab from the series of heavy transport vehicles is also absolutely unique. It was converted by Hans Mross' firm and is probably the world's first vehicle in this series with rail gear, which was also purchased from the German specialist Zagro. This vehicle version was delivered to the Toronto Transit Company (TTC). The Unimog U 4000 has now been in operation for 10 years without any problems and the customer is fully satisfied.
The story of the Unimog U 400 for the Colombian oil company OXY, which has already clocked up well over 20,000 operating hours, is also unique. During special training for the company's Unimog team conducted by Hans Mross in the jungle of the South American country where the notorious Colombian drug cartel is active, Hans Mross had to be guarded around the clock by heavily armed soldiers.
Another segment that is growing in Canada on account of the increasing number of globetrotters who cross the sand and ice deserts, savannas and mountainous regions of the world with a wide variety of Unimog and vehicle types, often with camping bodies they have configured themselves, and who trust in the performance of the 4-wheel drive, indestructible Unimog.
Globetrotters love the Unimog and Hans Mross
This clientele of adventurers and expedition freaks is of course found in Canada. The importance of a man like Hans Mross to them can also be seen in authentic reports on the internet with great photos. For example, globetrotters Petra van Apeldoorn and Stephan Schumann describe how they were able to continue their journey to the north of the country in spring 2017 thanks to the expert service provided by Hans Mross, who was able to get their Unimog U 1700 (built in 1990) up and running again.
"Help came in the form of Hans Mross, the Unimog specialist in Canada. Hans took the defective brake of our Unimog apart and immediately saw the problem: irreparable damage to the brake calliper. He had to procure a new spare part from Germany. And so the first leg of our journey ended with camping outside Hans' workshop in Langley and waiting for the postman," they wrote.
In the era of DaimlerChrysler, the first German-American vehicle group, the sales strategy for North America was restructured and Hans Mross lost his role as general distributor. This was a bitter pill to swallow, especially as Hans Mross had just opened a larger company site with a large workshop right on Trans-Canada Highway, but he managed to compensate for this shortfall with his expertise as a service partner for heavy-duty engines and equipment. Despite this development, Hans Mross never lost his enthusiasm for Unimog and he still works with this demanding product today. There are some orders and business contacts that would not be possible without it – and this is good, especially for Unimog and its long-time protagonist in Canada.
Source: Daimler AG